History (scroll to bottom of page for the application)
Mercy Otis Warren, born in West Barnstable in 1728, was a playwright, a historian, a pioneer in women's rights, a champion of liberty, an advocate of the Bill of Rights and a patriot. In an era where it was unusual for women to be educated, much less to emerge as a leader, her advocacy for the cause of patriotism and a central role for women in society was remarkable. Mercy Otis Warren was born on September 14, 1728, the third of thirteen children and first daughter of Colonel James Otis (1702–1778) and Mary Allyne Otis (1702–1774). The family lived in West Barnstable, Massachusetts. Mary Allyne was a descendant of Mayflower passenger Edward Doty. James Otis, Sr., was a farmer, and attorney, who served as a judge for the Barnstable County Court of Common Pleas. He won election to the Massachusetts House of Representatives in 1745. He was an outspoken opponent and leader against British rule and against the appointed colonial governor, Thomas Hutchinson.
Additional Information
The Otis children were raised in the midst of revolutionary ideals". Although Mercy had no formal education, she studied with the Reverend Jonathan Russell while he tutored her brothers Joseph and James in preparation for College. Unlike most girls of the time who were simply literate, Warren wanted to learn as much as she possibly could. She devoured book after book, learning about history and language. This set her apart from other girls, and most likely paved the way for her to break the traditional gender roles of her time. Her father also had unconventional views of his daughter's education, as he fully supported her endeavors, which was extremely unusual for the 18th century. James Otis attended Harvard College and became a noted patriot and lawyer. What little of his correspondence with Mercy survives suggests that James encouraged Mercy's academic and literary efforts, treating her as an intellectual equal and confidante.


She married James Warren on November 14, 1754. After settling in Plymouth, James inherited his father's position as sheriff. His previous occupations included farming and merchanting.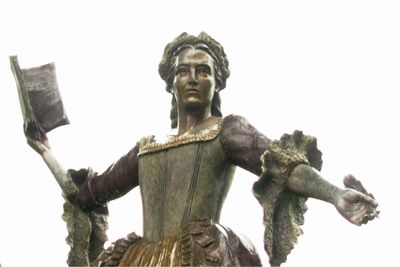 PAST WINNERS
---
Past Recipients
2019 Juliet Bernstein
2018 Nancy Shoemaker
2017 Dolores Holden Daluz
2016 Ann M. Williams
2015 Michelle L. DeSilva
2014 Mary Lou Petitt
2013 Dorothy A. Savarese
2012 Judy W. Scarafile
2011 Susan A. French
2010 Gloria W. Rudman
2009 Mary J. LeClair
2008 Josephine P. Ives
2007 Lynne M. Poyant
2006 Bonnie M. Snow
2005 Felicia R. Penn
2004 Eugenia Fortes
2003 Jean D. Gardner
2002 Marion R. Vuilleumier